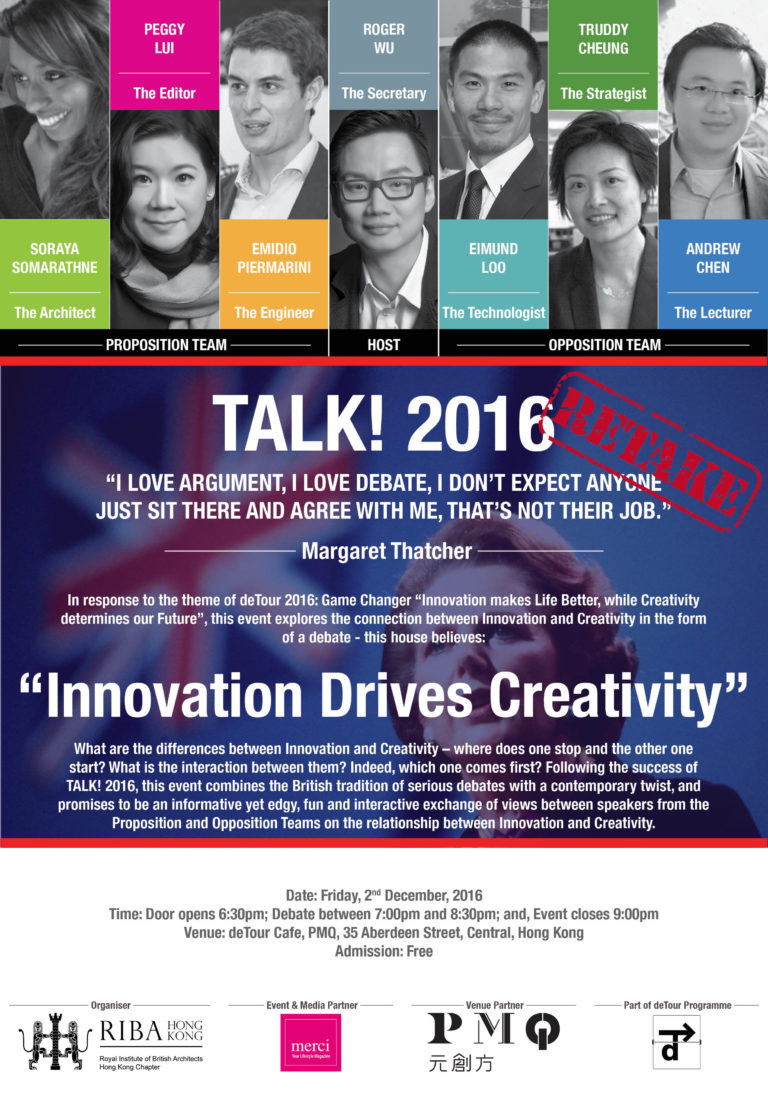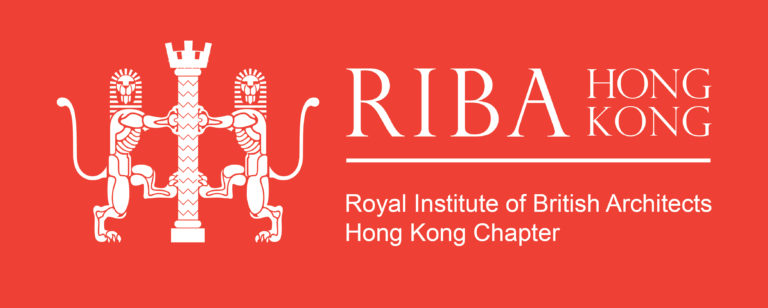 Combining the British tradition of serious debates with a contemporary twist, this event promises to be an informative yet edgy, fun and interactive exchange of views on an engaging topic related to the theme of deTour 2016.
Proposition Team:
Peggy Lui
Emidio Piermarini
Soraya Somarathne
Opposition Team:
Truddy Cheung
Eimund Loo
Andrew Chen
Host:
Roger Wu
Conducted in English
ABOUT THE ARTIST
About The RIBA Hong Kong Chapter
The RIBA Hong Kong Chapter aims to promote architecture in Hong Kong and the region, showcase the work of Hong Kong members, raise recognition of their professional and technical excellence and stimulate engaging discourse on architecture and the built environment within the profession, the construction industry and the wider public.
The RIBA launched the Hong Kong Chapter at an event held at the British Consulate in September 2012. Supported by the UKTI, the event attracted a wide audience including local members, developers, contractors, consulting engineers and government departments. The Chapter represents the interests of over 600 members based in Hong Kong and other members from China as well as the Asia Pacific region. John Campbell, appointed as Chair in 2013, is working closely together with his steering committee, which includes Dan Rusu as Honorary Treasurer and Roger Wu as Honorary Secretary.
The RIBA HK Chapter organises a series of annual architecture inspired events reflecting what Hong Kong loves best: EAT!, TALK!, SHOP! and CELEBRATE! as well as a monthly series of thought-provoking events of discussion forums and networking opportunities, entitled "Brick on Break: Professional Series", all to raise the profile of the profession in the region.
About Soraya Somarathne 索藍婭 (PROPOSITION TEAM)
Soraya graduated from The Bartlett School of Architecture, University College London, in 2009 and joined Foster + Partners in Hong Kong. She gained her Diploma in Professional Practice from The University of Westminster for her work on the refurbishment of The Hong Kong and Shanghai Bank Headquarters. Soraya spent six years working at Foster + Partners, lately working on the re-design of a landmark government building into a luxury hotel, which is due to open as The Murray Hotel in 4th quarter of 2017.
To date, Soraya has over eight years of practical experience in Hong Kong and China, including architectural refurbishment and retrofit projects.
Soraya likes adapting buildings for modern use, utilising progressive design, which is sensitive to context, and combining creativity with a practical approach. In April 2017, Soraya's latest project, The Fleming Hotel, with design agency Substance, will be open to the public. This 1970's industrial building will come alive as a new stylish yet gritty 66-room boutique hotel in the heart of Hong Kong.
About Peggy Liu 呂嘉怡 (PROPOSITION TEAM)
Peggy returned to Hong Kong in 2012 after living in Belgium and Canada for 26 years. In 2013, Peggy founded Merci Media, a communications company focusing in lifestyle publishing, PR & event management, as well as hosting workshops on design and architecture. She is also the Editor-In-Chief of Merci Magazine and Creative Director of Merci Design Workshop, Interviewed famous entrepreneurs and designers and Brand Positioning Strategy for design corporate. In 2016, She has been nominated as Communication and Event Co-Chair of the Retail Design Institute Hong Kong Chapter, Chair of The American institute of Architects Hong Kong Chapter Honors and Award supporting organization.
Peggy was selected as one of the 20 best design students out of 200 at the graduation show in 1998 and her work was exhibited at "Design Exchange" in Toronto. Peggy has recently curated, organized or co-organized key corporate and associated events for established associations and luxury brands in Hong Kong, including RIBA Hong Kong Chapter "TALK! 2015", "TALK! 2016" and "CELEBRATE! 2015", "CELEBRATE 2016", AIA HK Chapter 2016 Honor & Awards" and the launch of Retail Design Institute HK Chapter in 2016.
About Emidio Piermarini 貝一鳴 (PROPOSITION TEAM)
Emidio Piermarini is a structural engineer with BuroHappold Engineering.  Upon graduating from the Massachusetts Institute of Technology (MIT), he joined BuroHappold in Dubai and then transferred to BuroHappold Hong Kong.  He has been a key player in complex projects in Asia and the Middle East such as City of Dreams Hotel D and the XRL West Kowloon Terminus.  He is an expert in Parametric Modelling and is the Regional Innovation Leader for BuroHappold in Asia and the Middle East.  He has a particular interest in using new technology to change how the buildings we spend our lives in are conceived and delivered.
About Eimund Loo 盧毅敏 (OPPOSITION TEAM)
Driven by a passion for creating sustainable business value through technology, Eimund has over 16 years of Professional Services and IT Consulting experience in Australia, the U.S., Belgium, and is currently based in Hong Kong. Eimund has worked with and for a range of Fortune 500 companies as well as Government and SME customers on a variety of Technology and Management Consulting engagements, regional and local Strategy projects as well as a range of Business Development, Risk Management and Compliance projects.
About Truddy Cheung 張琦 (OPPOSITION TEAM)
Truddy is an Associate Director based at CBRE HK Workplace Strategy Team. Prior to joining the workplace team, Truddy was at HOK heading the interior team. Truddy has worked in the architecture/design field for over 15 years.  Being a naturally personable person, Trudy gravitates towards people focused approaches. 
In her role as a workplace strategist, Truddy has developed and implemented activity based working model from feasibility/strategy stage to change management phase. with her background in design, Truddy is now successfully blending in the relationship between space and human behaviours.
About Andrew Chen 陳翰銘 (OPPOSITION TEAM)
Andrew is Managing Partner of Arion Ventures. Arion Ventures is a strategic advisory firm that provides various management consulting services including fundraising and strategy consulting. He also currently lectures a graduate course on emerging technology and entrepreneurship part-time at the School of Design at the Hong Kong Polytechnic University. Andrew is originally from Toronto, Canada and has resided in Hong Kong for the last 10 years.
About Roger Wu 胡燦森 (HOST)
Roger is currently the Chief Executive of Haw Par Music Foundation Limited, a charity set up to oversee the revitalisation of the historic Haw Par Mansion in Tai Hang, Hong Kong, into a music academy. Roger is also actively involved with both the Royal Institute of British Architect Hong Kong Chapter, where he is the Honorary Secretary of the Steering Committee as well as the Chair of the Communications Sub-committee, and the Hong Kong Institute of Architects, where he is a member of the Heritage & Conservation, Archive and Education Development & Accreditation Committees. Roger also taught at the School of Architecture, Chinese University of Hong Kong, as an Adjunct Associate Professor.