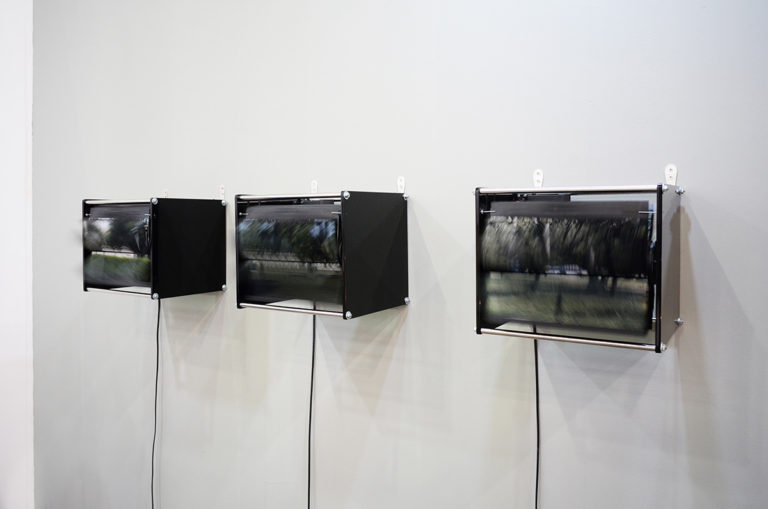 I walked around the barracks. Curious. Everything inside the fence seems to always be fleeting.
The existing barracks are all military legacy from the British rule. After the handover, these British-style buildings have been kept almost the same as in the colonial era, despite now accommodating the Chinese troops. One cannot help but feels weird about this. This is a question inherited from history, and the answer seems to be lying behind the fence of the camp.
I believe we can understand all about humanity from landscape, however the truth is always partially hidden and blocked by obstacles. We must bypass these obstacles to see the truth (or to see what we desire). I created a mechanical device to catch and reproduce the bits and pieces, to understand the relationship that feels both near and distant, which can affect the understanding of identity, something I have long been searching for but always find elusive.
ABOUT THE ARTIST
Siu Wai-Hang graduated with a Bachelor of Arts (Hons) in Creative Media from The School of Creative Media, The City University of Hong Kong. He went on to obtain his Master of Fine Art from the Department of Fine Arts, The Chinese University of Hong Kong. He won the WYNG Masters Award In 2014 and 2016, and was also awarded the Emerging Talent Award at ifva in 2016.
Siu presented two solo exhibitions since 2010, "The Elusive" (Lumenvisum, 2015) and "Metropolis Chlorophyll" (K11, 2010). He has also joined a number group exhibitions, including "Taipei Art Photo Show 2016", " The 21st ifva Awards", "780S" (Blindspot Gallery, 2014) , "WYNG Masters Award Finalists' Exhibition – GASP" (Hong Kong Polytechnic University, 2014), "Pingyao International Photography Festival 2013" (Pingyao, 2013), "Hong Kong Contemporary Art Awards 2012" (Hong Kong Museum of Art, 2013), "Hong Kong EYE" (Mandarin Oriental, Hong Kong, 2013), "Image on the Run" (City University of Hong Kong, 2013) and "Dine at Lower Ngau Tau Kok Estate" (2009).
His works are collected by The Legislative Council of Hong Kong, The Peninsula Hotel Hong Kong and various private collections. Currently lives and works in Hong Kong, and teaches at various art institutes (e.g. M+) and universities.