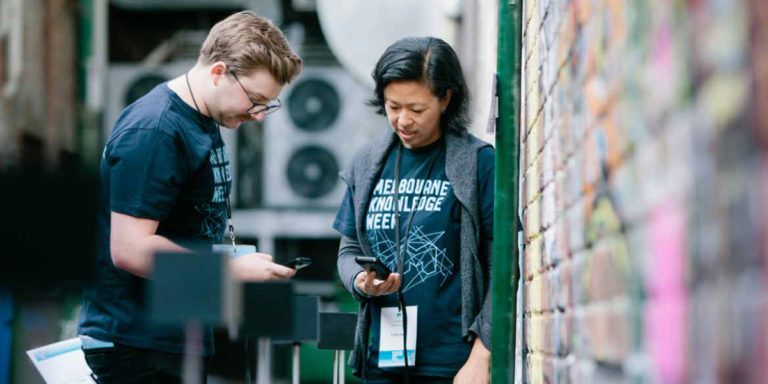 BlackBOX is an exhibition that celebrates design and innovation from Melbourne, Victoria Australia. The exhibition features a field of thirty-six products designed by professional Melbourne based designers. Each project is represented as a digital archive activated on a smartphone as visitors approach each individual black box.
The exhibition is named after The black box flight recorder, invented in Melbourne in 1957 by David Warren. Adopted as a the world standard air safety device it is installed on all commercial aircraft so this innovative research has had global impact.
Melbourne, the capital of the state of Victoria, is a city celebrated for its sense of style, livability and creative culture.
Melbourne, Australia's southernmost mainland city, is also the home of Australian design, with leaders in architecture, fashion, graphic design, branding and communications, industrial and digital design, interior, landscape and urban design. Melbourne has major design universities with outstanding research facilities and infrastructure, and international relationships in Asia and Europe.
Melbourne boasts a busy calendar of festivals and major events, Australia's best shopping, and a flourishing arts scene – from blockbuster exhibitions and theatre productions to edgier live music, art and performance venues.
Melbourne has stunning nineteenth-century architecture, and beautiful parks and gardens. Among the main boulevards, its labyrinth of city laneways has become outdoor art galleries, with some of the world's best street art. The city hosts Australia's most prestigious events and has been independently rated as the world's most livable city six years running.
ABOUT THE ARTIST
Creative Victoria
Creative Victoria is a government body that supports the creative industries in Melbourne and across the state of Victoria, spanning arts, culture, screen, design and more. Creative Victoria invests in the work, and development of creative practitioners, as well as a wide range of creative and cultural organisations, events and projects.
Design Institute of Australia (DIA)
As Australia's peak industry body for professional design, the DIA represents Australian design and designers both domestically and internationally. We exist to help Australia's professional designers to succeed in business and to enjoy their working lives, while collectively growing Australia's reputation as a design nation. The DIA brings together design practitioners with people and organisations that employ, commission, support and promote designers. As such, our membership includes design practitioners and participants in Australia's design industry.