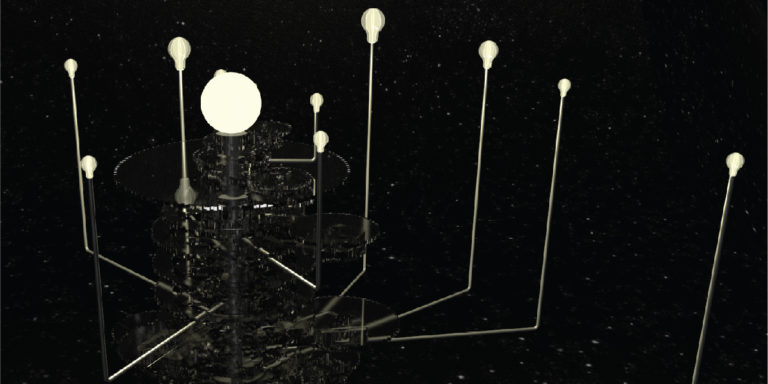 Never stop exploring is our humanity. This is the nature of future human. We always have fantasy about the universe and the mysterious. In this design, we want to show the remarkable beauty of the planets and the universe. The inspiration of the universe and the hunger for truth will lead to a better life in future. The long space travelling will be our next milestone. With an increasing world population and modern technology, space colonisation might create a better life and a better future for Hong Kong people.
Inspired by the spectacle of the universe and the beauty of planets, we want to bring the lighting source to a different level. We have designed a series of collection of URI light bulbs. We will apply our URI light bulbs design concept on making the model and each one represents a star or a planet, including the Sun, Mars, Jupiter, Earth, Venus, etc. In this design, we want to show the remarkable beauty of the planets and the universe. And this is how our new daily life in a new environment, a new planet in future would be like. We will place the model in a dark room and using reflective clothes for inner decoration. The visitors will feel like they are walking in the universe. Planets in the solar system model will automatically orbit on their tracks, leading to a new spectacular visual effect and bringing an educational experience to visitors.
The URI light collection is a series of unique LED bulbs with simple, soft and minimalist lines that create remarkable lighting effects. The word "URI" refers to God's light in Greek.
LED light bulb is no longer old fashion. It can have a fashionable, glamorous outlook with its practical function, long life-span and efficient energy use. URI LED light bulb is made of acrylic glass sheets and LED screw base. The light source is reflected from the bottom to the transparent acrylic glass and creates a remarkable lighting effect. We make good use of LED technology, laser cut machine and traditional mortise and tenon skills to create our URI LED bulb. Each bulb consists of 6 pieces of acrylic glass pieces and we have to assemble them all together by hand with care. It is just like playing a 3D puzzle.
ABOUT THE ARTIST
Our designer, Law Yat-Ming believes that design makes a better life for us. This is his mission of keeping to invent sustainable design to improve our daily life. Since the age of 16, he has loved to hand-make furniture and try out different materials. He studied in a local industrial school and learnt crafting skills and product design. He has been working in the advertising and design field for 10 years, with rich experience in graphic design, product design, and events and exhibition design. Yat-Ming is very proud of his URI collection which he thinks best represents our creativity.
The designer says, "We think nature is our role model in life. We learn things from nature and it inspires us to design and invent. Nature is a good teacher and a great design model. What we design and how we design is inspired by science and nature. Connecting with nature is very helpful for us to create more designs and develop our own theory of life. We have to show and share love to people, animals and objects around us."