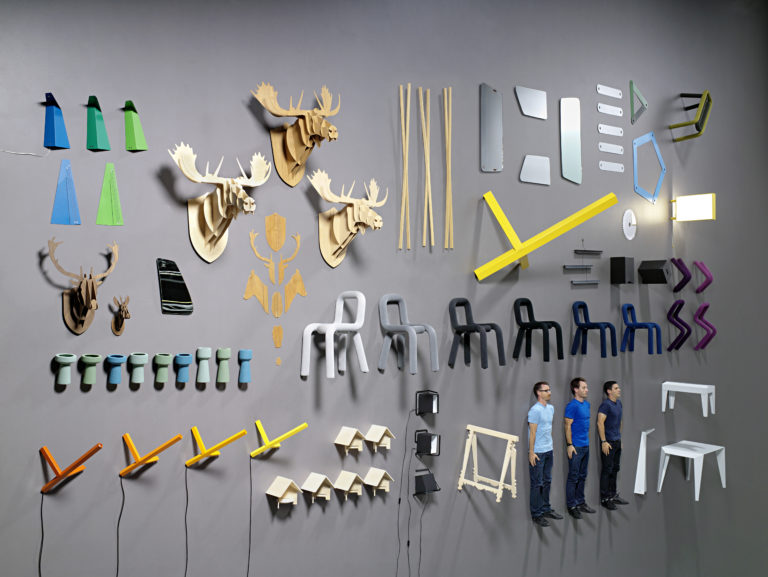 Join Design Prize Switzerland and deTour to meet with renowned Swiss design collective BIG-GAME, a well-connected threesome that succeeded in making waves well beyond Switzerland at an early stage. What does it take to develop products for the global market, while the clients come from diverse cultural and geographical backgrounds?
With the aim to exchange with you and provide deeper insights, BIG-GAME will be sharing anecdotes from and about the development processes of some of their products, while applying and translating their own high standards and product narratives.
BIG GAME stands for a youthful and refreshing design idiom, notable both for its functionality and for its playful approach – one that succeeds in redefining the Swiss design quality that everyone talks about.
Speaker
Augustin Scott de Martinville (Founding Partner of BIG-GAME)
Conducted in English
ABOUT THE ARTIST
Consisting of Augustin Scott de Martinville, Elric Petit and Grégoire Jeanmonod, the designer threesome formed in Lausanne in 2004 goes by the name of BIG-GAME. The trio can already look back on a notable career. With their consistently unpretentious designs of furniture, objects, interiors and exhibitions, the well-connected threesome succeeded in making waves well beyond Switzerland at an early stage. The acquisition of their works by prestigious institutions – like the Museum of Modern Art in New York or the Museum für Gestaltung Zürich – reflects their success, as do the famous names now featuring in BIG-GAME'S customer portfolio. Their clients and partners include not only conspicuously well-known European brands, but also Chinese and Japanese companies. It is surprising and gratifying that in spite of all their success, and the resulting work load, the designers still continue to teach at ECAL (Lausanne University of Art and Design) and are happy to pass on their experience to the younger generation of designers. The work of BIG-GAME has crossed the international image of Swiss design, while at the same time enriching it. The Merit Prize from Design Prize Switzerland should encourage these talented designers to continue as they have begun.