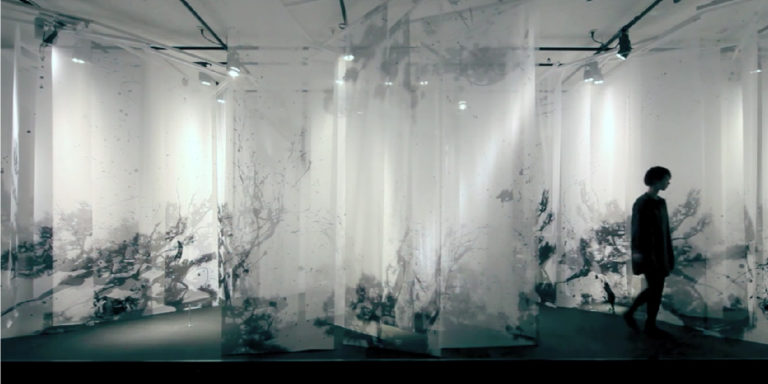 The title "Bokusho" is an avant-garde calligraphy form that sprang out of post-war Japan. The artwork is a new interpretation of Bokusho, through the contemporary lens of Shun Kawakami (artless Inc.) and Kazunori Matsumura (Firm.). The calligraphic strokes are by a contemporary calligraphy artist Gen Miyamura.
Traditional calligraphy and ink painting have been breathed in even more lives to explore the possibilities of the respective art fields. Photos of Japanese pines, calligraphic strokes and alphabets are carefully composed to form an artwork, which is then printed onto layers of translucent fabrics. There will be projections of Japanese pines on the fabrics. The layers of the fabrics, combined with projections, will create depths and invite visitors to walk into the artwork – making the visitors themselves to be part of the calligraphic pine forest.
Do we define an art form by its subject matter, media or aesthetic style? Rather, we believe in philosophical and atmospheric ethos – the spontaneity of strokes, the tension within the accidental negative spaces – and that an art form should not be confined by a definition. This artwork questions such definition, and becomes a "game changer" in the field of traditional art form.
ABOUT THE ARTIST
Shun Kawakami / artless Inc.
Japanese artist and designer Shun Kawakami was born in Fukagawa, Tokyo in 1977. This versatile artist has been involved in many creative endeavours, including design, branding, video, installation, interactive art and space production. In 2001, his curiosity and interest into different spheres of life has lead him to become the founder and director of artless Inc., a branding and creative agency for art, design and business. Through his agency, Shun Kawakami has worked with brands and clients like B&B Italia, H&M, Nike, Starbucks and the V&A Museum, among many others.
artless Inc. is an independently owned global branding agency, based in Tokyo and Kyoto, Japan. Activities include visual communications and the language of design, branding & design consulting, logo & identity, graphic, web, user interface, video, motion graphics, product, installation, interior, sign design and architecture. The agency forms a creative team in accordance with each new project, and brings new perspectives to all projects from its global network.
Kazunori Matsumura / firm.
"Firm. by Kazunori Matsumura" was established by Kazunori Matsumura in 2012. His main focus lies in spatial design and direction, showing direction, furniture design, and three-dimensional art works. He studied architecture, interior and landscape design and completed his graduate studies at Tama Art University in Japan. He worked for Aesop Japan as visual merchandiser from 2012 to 2014. He is good at three-dimensional designs and art works related to commercial space.
1982 Born in Sapporo, Hokkaido Japan
2005 Graduated from Tama Art University's Department of Architecture
2007 Completed graduate studies at Tama Art University's Department of Environmental Design
2007–11 Tama Art University Research Assistant
2008–11 Worked with Takaaki Tani as design unit "t/m"
2012 Set up "Firm. by Kazunori Matsumura"
2012–14 Visual Merchandiser of Aesop Japan